THE OVERVIEW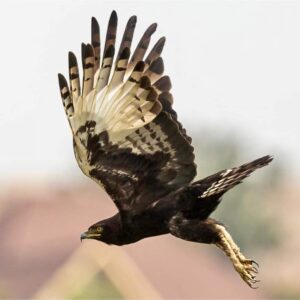 This 12-day birding trip offers you to Ecological Hotspots and the comparatively wealthy Albertine Rift Valley, which is not merely Uganda's but also Africa's Richest Zone for most endemic and globally threatened species of birds and other creatures such as Mountain Gorillas. This excursion brings you to Mgahinga, Bwindi, and especially Ruhizha, Africa's top birding destination, Rwenzori, and ultimately Semliki. These are, by far, the top birding areas in Uganda, with varied ecosystems and each drawing different kinds of birds.
DETAILED ITINERARY
Day 1: Arrival at Entebbe International Airport and Transfer to your Hotel in Entebbe Town
When you arrive at Entebbe International Airport, our driver will welcome you and transport you to the hotel in Entebbe for leisure, dinner, and an overnight stay.
Meal plan: Dinner
Day 2: Transfer to Kisoro and do birding at Echuya forest
After an early breakfast, you will be transferred to Kisoro town in a 7-8 hour and 480km long drive, where you will check in to your lodge for some relaxation before going birding watching at Echuya Forest, where a well-trained guide will take you through the forest as you search for these birds and he will help you identify the different species such as Dwarf Honey guide, Kivu ground thrush, Red-throated Alethe, Red-faced Woodland Warbler, Archer's Robin-Chat, White-eyed Slaty Flycatcher, Grauer's Warbler, Rwenzori Batis, Collared Apalis, Strip-breasted Tit, Doherty's Bush-Shrike, Mountain Masked Apalis, Yellow-eyed Black Flycatcher, Brown-capped Weaver, Montane Oriole, Regal Sunbird, Strange Weaver. Return to the lodge for dinner and night's rest.
Meal plan: All meals are included
Day 3: Transfer and Birding at Mgahinga National Park
You begin your day with an early breakfast, then drive to Ntebeko Camp, from where you will begin your birding walk through one of Uganda's most gorgeous places. The gorge trail loops halfway up Mt. Sabinyo, passing through a number of montane habitats that are home to the Dusky Turtle Dove, Rwenzori Turaco, Cape Robin-Chat, Kivu Ground Thrush, White-eyed Slaty and White Tailed Blue Flycatcher, Olive Wood-pecker, White-starred Robin, Mountain Yellow Warbler, White-napped Raven, Lagden's Bush-Shrike, Yellow Today's birding will have a greater emphasis on the shy Shelly's Crimson-wing, among other birds. In the evening return to the lodge for supper and night's rest.
Meal plan: All meals are included
Day 4: Birding at Ruhizha  
You begin birdwatching in the Rift Valley Area after breakfast.  Continue birding to Ruhizha with numerous stopovers expecting birds such as the Augur and Mountain Buzzard, Yellow-Bellied Waxbill, Dusky Crimsonwing, Dusky Twinspot, Common Stonechat, and others. We look for the Handsome Francolin, Olive Pigeon, Western Green Tinkerbird, Archer's Robin-Chat, Chestnut Throated Apalis, White-browed Crombec, Stripe-breasted and Dusky Tit, Rwenzori Batis, Doherty's Bush-shrike, Black-headed Waxbill, and many other birds as we approach the camp headquarters.
Meal plan: All meals are included
Day 5: Birding to Mubwindi Swamp  
Today's birding will begin early, with our main focus being the beautiful leafy-looking broadbill, Black-billed Turaco, Olive, Elliot's and Fine-banded Woodpecker, African Hill Babbler, Mountain Illadopsis, Yellow-eyed Black Flycatcher, Mountain Greenbul, Grey Cuckoo Shrike, Red-faced Woodland and Mountain Yellow Warbler, Chestnut-throated Collard and Black Throated Apalis, among others.
Meal plan: All meals are included
Day 6: Birding at Buhoma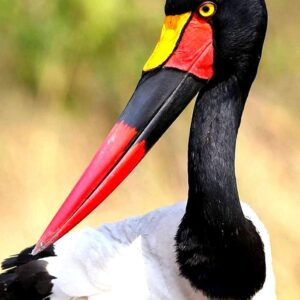 After breakfast, drive to Buhoma in the southern part of Bwindi, bird watching on the way. During the drive and stopovers expect to see the Black Bee-eater, calling the Robin's Wagtail and finding it would be a great addition, Gray Wagtail and the Cassins' Greycatcher, White-Starred Robin, Olive Thrush, Red-faced Warbler, Gray's Warbler, MacKinnon's Fiscal, Collared, Mountain Masked Chestnut-throated and Gray Apalis, Stripe-breasted Tit, Sharpes Starling, the elusive Royal Purple-chested Sunbird, Strange Weaver, Dusky Twinspot. Reach the lodge for dinner and a night's rest.
Meal plan: All meals are included
Day 7: Birding at Bwindi Impenetrable National Park
After breakfast, you will head out to the Bwindi forest area in search of birds such as the Pink-footed Puffbuck, Yellow Billed Barbet, Bocage's Bush-Shrike, Bar-tailed Trogon, Black Bee-Eater, Cassin's and Scaly throated Honey Guide. Western Green Tinkerbird, Short-tailed Warbler, African Broadbill, White-headed Wood-hoopoe Red-throated Alethe, Mountain Illadopsis, Red Faced Woodland Warbler, Equatorial Akalat, Chapin's Flycatcher, Black Faced Rufous Warbler, Mountain Masked Apalis, Dusky Tit, Many Colored, and Luhder's Bush-shrike Blue-throated Brown, Blue-headed, Northern Double Collard, and Green Sunbird, Black-billed Weaver, Red-fronted Antpecker, Magpie Manikin. Return to your hotel for dinner and overnight rest.
Meal plan: All meals are included
Day 8: Transfer to Rwenzori Mountain national park
After breakfast, take a three-hour, 154-kilometer drive to Rwenzori National Park. Check into your lodge for some rest and lunch before heading out to the mountain in search of special birds such as the purple-breasted sunbird, Abyssinian, Red-faced, Shelly's, and Dusky Crimson-wing, Red-bellied seed cracker, Woodhouse Antipecker, Stripe-breasted Tit, Forest Flycatcher, Grey Apalis, Ayres and Cassin's Hawk-eagle, and many others. In the evening return to your lodge for relaxation, dinner, and a night's rest.
Meal plan: All meals are included
Day 9: More Birding at Rwenzori then transfer to Fort Portal  
After breakfast, spend another day birding in the Rwenzori before being transported to Fort Portal, which may contain a number of uncommon and highly localized birds. African Long-eared Owl, which is occasionally confused with the Holarctic Long-eared Owl. This is one of just two locations in East Africa where this bird has been stated the other being Mt. Kenya. Similarly to the Greater Double-collared Sunbird, Stuhlmann's Double-collared Sunbird is native to the Rwenzori Mountains and is supposedly fairly widespread in bamboo and heath areas. Rwenzori Turaco is another frequent and easily visible species here. You check in the lodge for dinner and a night stay after reaching Fort Portal.
Meal plan: All meals are included
Day 10: Birding at Semuliki National Park
After an early breakfast, visit Semuliki National Park and stroll the bird trails surrounding the hot springs. This is an excellent introduction to Semliki birds such as Hornbills, Chestnut Breasted Negro Finch, Black Bellied Seed Cracker, and others. Transfer to Bundibugyo in the late afternoon for dinner and a night's rest.
Meal Plan: All meals are included
Day 11: Whole day birding at Kirumia Trail
After breakfast, spend the entire day birding on the Kirumia route. Depending on the weather, you will get some of the best birding in the East African region, as many of the species are of West African origin. Birds to look out for include the Black-casqued wattled, White thighed, Piping, Red-billed dwarf, White-crested, and Black dwarf Hornbill, Rufous-sided Broadbill, Blue-billed and Crested Malimbe, Blue-headed Crested-flycatcher, Leaf Love, and Blue-headed Crested-flycatcher. Swamp palm Bulbul, Capuchin Babbler, and African Piculet are little birds related to woodpeckers and Lyre Tailed Honey Guides, among other birds.
Meal plan: All meals are included
Day 12: Transfer back to Entebbe for departure flight
On this final day, you wake up to have a relaxed breakfast, you will be driven back to Entebbe for a departure flight depending on its schedule bringing this birding safari to an end
Meal plan: Breakfast and Lunch