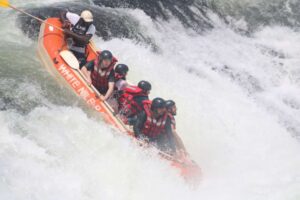 Jinja is a city located in the eastern part of Uganda with a lot of adventure and an interesting district for tourist attractions. various activities for tourists in Jinja but in these two days we will cover only White water Rafting, a boat cruise  to the source of the Nile, and a City Tour
In these two days, you will visit the second most industrial and busiest city in Uganda which is about 85km from the capital city of Uganda. You will visit the source of River Nile which is located at the shores of the largest lake in east Africa Lake Victoria
Tour packages activities
white water rafting at the source of the Nile
Boat Ride at River Nile
Jinja city tour
Ground transport
Detailed 2days Jinja safari:

Day 1 of 2 days Jinja safari: Transfer to Jinja
White water Rafting
Boat cruise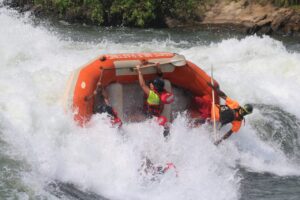 Early morning at 6 am, the driver will pick you up and transfer you to Jinja, the drive will take around 3hrs due to the high traffic on Jinja Road. You will reach the rafting center and have breakfast at 8 am. After breakfast, you will receive briefings about the rafting, dressed up with rafting equipment. After the briefing, you will transfer to the source of the Nile where the rafting starts from. it's an amazing Activity only found at the Source of the Nile you will spend 5hourst rafting enjoying the fresh breeze from River and adventurous time rafting on the 5 falls
You will return to the briefing center afternoon around 2 pm, and have your lunch. After lunch, you will be transferred to Jinja ceiling club for a Boat ride. During your boat cruise, you will have a chance to reach the source of the Nile and visit Samuka Island with a great view of birds.
After the boat ride you will return to the campsite for a night overstay where you will have a dinner
Day2 of 2 days Jinja safari: Transfer to Kampala
Jinja city tour
Drive to Kampala
You will have a morning breakfast and later transfer to Jinja for a city tour. the tour will start from the old Railway station which connects Uganda to Kenya. you will see the diesel locomotives that transfer goods from and to Kenya. we will also visit the Indian temple called the Hindu temple designed with the bronze statue of Gandhi then proceed to Jinja golf course. the jinja golf course has got a beautiful view of the River Nile. we will end our tour with a visit to Memorial Gardens where the Gandhi ashes were scattered.
Return to the main city and have our late afternoon lunch. After our lunch, we will embark on our  4hours drive to Kampala and you will reach in the evening making  it the end of 2days Jinja safari