1 Day Rhino Tracking Safari (Ziwa Rhino Sanctuary) Uganda
1 Day Rhino Tracking Safari offers a one day Ziwa Rhino sanctuary tour. Spending 1 day in  Ziwa Rhino sanctuary offers travelers to look for or follow Rhinos in the sanctuary on foot. The 1 day Rhino tracking in Ziwa rhino sanctuary is mostly an enroute tour by visitor traveling to Murchison falls National Park, for a full Big 5 experience.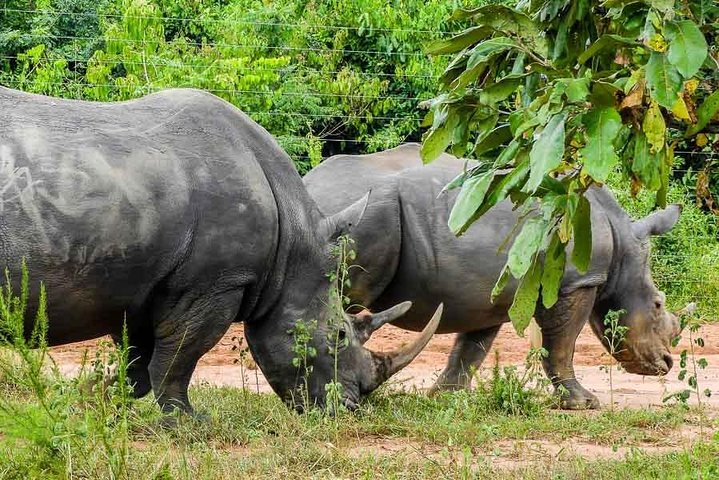 This 1-day rhino tracking tour takes you to Uganda's Ziwa Rhino Sanctuary, in which you will be able to view rhinos on foot. The rhino refuge covers 7,000 hectares and is home to Savannah and wooded flora. Aside from white rhinos, the sanctuary is home to a variety of other creatures such as bushbucks, reedbucks, monkeys, oribis, and many birds such as a shoebill stork, as well as reptiles.
The highlight of the safari
Tracking the white Rhinos on foot
Detailed Itinerary : 1 Day Rhino Tracking (Ziwa Rhino Sanctuary)

After breakfast, our driver will pick you up from your hotel or residence in Kampala or Entebbe. The driver guide will first educate you about this one-day rhino trekking safari, after which you will begin on a three-hour trip to the Ziwa Rhino Sanctuary for the events of the day.
You will drive through the districts of Kampala and Luweero until you reach Nakasongola, the home of the Ziwa rhino sanctuary, which is located along the Kampala-Gulu highway. When you arrive at the rhino sanctuary, you will be greeted and briefed by highly experienced rangers who will also accompany you on the rhino tracking activity. The rangers will also walk you through the sanctuary's tracking standards and history.
Several white rhinos will be visible in close proximity during the tracking exercise. Other animal species to look out for include bushbucks, reedbucks, monkeys, oribis, and birds like the shoebill stock. You will spend one hour up close and personal with rhinos, photographing them and learning about their habits. Because tracking is done on foot, it will take between two and three hours based on the position of the rhinos. Return to meet your driver after your rhino tracking excursion in the foliage of the Ziwa rhino reserve. Drive to Kabelega for lunch and relaxation, then return to Kampala or Entebbe, bringing this safari to a close.