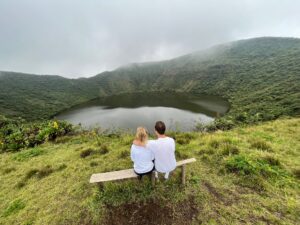 INTRODUCTION
The park's current English name is the Volcanoes National Park, its French name is Parc National des Volcans. Rwanda's Ruhengeri region is where Volcanoes National Park located, which is roughly a two-hour drive from Kigali, the nation's capital. Bamboo and rain forest occupy 160 square kilometers of this area. Virunga National Park in the Democratic Republic of the Congo and Mgahinga National Park in Uganda border Rwanda's Volcanoes National Park. The highly endangered mountain gorillas are only found in Volcanoes National Park in Rwanda, which also shares five of the eight volcanoes that make up the Virunga massif. This Park is bounded by the volcanic mountains Gahinga, Muhabura, Sabyinyo, Karisimbi, and Bisoke. These volcanoes were once active, but they are now considered extinct and inactive volcanoes.
History of the Park
In 1925, Volcanoes National Park was the first park in Africa to be gazette, consisting of the land masses of Mounts Bisoke, Karisimbi, and Mikeno, with the intention of protecting mountain gorillas from issues such as poaching, making it the oldest national park in all of Africa. The Park's boundaries were expanded in 1929 to include more territory in Rwanda and the Congo, and its name was changed to Albert National Park. It occupied a geographical area of 8090 km2, and was run by the Belgian Colonial government, which at the time was Rwanda's and the Congo's colonial rulers. As Rwanda and the Congo earned their independence in the early 1960s, the park was divided, and by the end of that decade, it had shrunk to almost half of its original area.
The American primatologist Dian Fossey, who had been studying mountain gorillas in the woods of the Congo, fled from danger in 1967 and set up her research station in a region between the Visoke and Karisimbi volcanoes that had not yet been given the name Karisoke research center. She organized resources to fight against poaching in this region and led the conservation effort for mountain gorillas, a fight she continued until her death in 1985. She had played a vital part in the Virunga Massif Mountain gorilla survival, as shown in a number of documentaries and films.
In the early 1990s, the park later turned into a battleground of the Rwandan civil war. The genocidal conflict not only had a significant impact on Rwandans' quality of life, but it also had a negative impact on the region's tourism industry until 1999. The Rwandan government established the "Kwita Iziina" gorilla baby naming ritual in 2005. This was done in an effort to boost the park's tourist and conservation efforts. Each year, both members of the local community and visitors take part in the ritual for naming baby gorillas.
Attractions in Volcanoes National Park
Mountain Gorillas
The only ape species on earth that's still seriously threatened is the mountain gorilla. Only just few rare, protected, and preserved afro-montane forests remain, including those in the Virunga National Park in eastern Democratic Republic of the Congo, Bwindi Impenetrable National Park, Volcanoes National Park in northwest Rwanda, and Bwindi Impenetrable.
There are currently 11 habituated gorilla families in Volcanoes National Park, with one designated for study from which the early-age gorillas for the Kwita Izina coronation ceremony are chosen. These gorilla families are;
Susa (A) gorilla family; The biggest gorilla family in the park, with 41 gorillas, is the one that Dian Fossey researched. Byishimo and Impano, two extremely uncommon twins, are known to belong to this group. This group of ranges is located in the high peaks, making it challenging to trek there, but when you do, you'll be rewarded with its size.
Karisimbi (Susa B); There are two silverbacks who detached from the original Susa (A) group. This group, which lives on the upper slopes of Mt Karisimbi, is among the most difficult to reach. It is suitable for experienced hikers who enjoy the trekking encounter as much as seeing gorillas.
Amahoro Family; The term Amahoro originates from the Kinyarwanda synonym for tranquility. The group is known for its calm and good nature, Amahoro, which means "peace," has stood true to its name and is recognized as the most tranquil community. It is difficult to monitor because one must trek up the hills of Mount Bisoke, in which the group made their home. There are 18 individuals in the group, comprising 2 silverbacks.
Umubano Gorilla family; This family is headed by silverback Charles, who started Umubano with a group of female gorillas after they separated away from the Amahoro gorilla group. The cluster has 13 members, along with two silver backs, and its family called "living together."
Sabyinyo gorilla family; Guhonda is the leader of this group, named after one of the volcanoes, Mt. Sabyinyo, despite having smaller population overall, this family is outstanding. If this group is available, request it because it is the closest to the park headquarters if you don't want to travel far.
Titus gorilla family; This initial family was named the Titus family after the Silverback Titus, who was born amid Dian Fossey's studies at Karisoke, the gorilla group she was monitoring. Titus the gorilla, who was fostered by an unrelated male gorilla, was abandoned by his mother and sister after losing his father, uncle, and sibling to poachers. The newborn appeared "uninspired and wiry," according to Dian Fossey Titus, and also had trouble breathing, however Titus overcome these challenges.
Hirwa family; Certain individuals of the Sabyinyo group and others groups came together to form this family in 2006. (Agashya). There are currently 16 gorillas in the family, including a silverback, as even more joined. The title of the group was drawn from how fortunate it was to form. Hirwa is Arabic for "the lucky one," and in 2011, the group welcomed twins. The Hirwa population lives in the foothills of Mt. Sabyinyo, located adjacent to Mt. Gahinga.
Bwenge gorilla family; was established by silverback Bwenge following a split with females from other tribes, Bwenge term means wisdom. The group primarily inhabits in the slopes in between highlands of Karisimbi and Bisoke.
Kwitonda family; There are a remarkable 23 gorillas in the Kwitonda group, containing 4 Silverbacks, this family resides on Mountain Muhabura's summits and is named after the late dominant silverback known as Kwitonda, a senior well-known for his modest nature. This population moved to Volcanoes National Park from the Democratic Republic of the Congo. 
Ugenda family; There are 11 individuals in it, which include 2 Silverbacks. Ugenda word correlates to this group's mobility, which signifies mobility. The Ugenda gorilla troop rarely stays put and is constantly moving. This clan reportedly lives on Mount Bisoke, and the hike is not particularly challenging.
Agashya family; One of the many gorillas' groups in Rwanda, the Agashya family was once known as group 13 but has since changed its name. As a result of the founding membership of 13 people, this group acquired its name. Originally, a dominating silverback named Nyakarima was in charge of this family; however, he was ultimately overthrown in favor of Agashya, who continues to be in charge today.
Golden Monkeys
In Volcanoes National Park, golden monkeys are indeed a rare species and the second-most popular animal after gorillas. Golden monkeys are critically endangered primates that inhabit groupings of over 50 individuals and consume a variety of foods, including bamboo, fruits, and leaves.
Musanze Caves
The Musanze District is home to these well-known caves, The two-kilometer-long Musanze caves are located beneath a cliff that is wide enough for people to enter and have pathways and stairs leading within. The site has undergone a significant makeover with the addition of tourist pathways, trails, and steps that lead to the caverns' gloomy interior, which depicts a home with several rooms and halls. There are steps and a paved floor to make moving around easier.
Mountains
Five of the eight Virunga volcanoes, Mount Muhabura, 4127 meters above sea level, Mount Gahinga, 3474 above sea level, Mount Sabyinyo, 3634 feet above sea level, Mount Bisoke, 3711 feet above sea level, and Mount Karisimbi, 4507 feet above sea level are contained within volcanoes.
Twin Lakes Burera & Ruhondo
The two most overlooked water bodies in Rwanda are Lake Burera and Lake Ruhondo. The Muhabura volcano's base and the Ugandan border are home to these picturesque lakes. With the Virunga volcanic mountains serving as their background, they are flanked by steep inclines and big waterfalls.
Dian Fossey Research Centre
In order to safeguard the critically endangered mountain gorillas in Volcanoes National Park, primatologist Dian Fossey founded the Dian Fossey Research Centre. You can visit the graves of Dian Fossey and other gorilla researchers at the Research Center.
Other animals and Birds at the park
An established colony of golden monkeys, each with up to 100 members, can be tracked in addition to mountain gorillas. The Albertine Rift is home to this threatened species. In the forest, buffalo and elephants are very plentiful, but they are elusive and hardly seen. Small mammals present include black-fronted duiker, bushbuck, bushpig, gigantic forest hog, and side-striped jackals.
There are more than 200 bird species in Volcanoes National Park, including several endemics to the Albertine Rift, which are enjoyed by bird watchers. The Rwenzori batis, Rwenzori turaco, Rwenzori double-collared Sunbird, handsome francolin, unusual weaver, dusky crimson-wing, collared Apalis, red-faced woodland warbler, and Archer's ground robin are just a few of the species to keep a lookout out for.
Activities or things to do in Volcanoes National Park
Gorilla trekking
One of the main activities offered with in park is gorilla trekking, that allows guests to venture into the jungle in quest of domesticated gorilla families and, once located, spend one hour with them. About 18 habituated gorilla families live in Volcanoes National Park, 12 of which are accessible for trekking and the others are set aside for studying. The day of gorilla trekking in the park begins in the morning with a training on the guidelines and requirements. Following the briefing, you'll be divided into 8 groups, given a gorilla family to hike, and paired with a park ranger who is familiar with the gorilla pathways in the jungle.
Mountain gorilla trekking in Volcanoes National Park begins around 8:00 am and lasts anything from half an hour to 6 hours, based the location where the gorillas are. You will spend an hour with each family when you arrive and observe their behavior. For example, you will witness the adult females breast feeding the great apes, the dominant silverback who has the exclusive privileges to mate with the family's females, and other fascinating aspects of the primates for an unforgettable gorilla trekking experience in Rwanda.
Golden Monkey tracking
During a safari at Volcanoes National Park, seeing a golden monkey, an endangered primate species, is something to put on your wish list. They were conditioned to enhance the visitor experience. The bamboo forest at the foot of the Virunga Volcanoes is where you may encounter the majority of the golden monkeys. The golden monkey tracking included a guide to help you navigate the tracking, explain the park's history, provide information about primates, and direct you to the hotspots for the golden monkeys.
Golden monkey trekking begins in the dawn with training at the park's administrative center. Afterward, you'll be assigned a group of golden monkeys to trek along with a park guide who can really show you various trails to take. Once the golden monkeys have been located, you will be permitted to spend an hour with them within their natural environment learning about their mannerisms and way of life while taking pictures and documenting the experience. Golden monkey trekking can take anything from 30 minutes to 4 hours.
Mountain hiking
Hiking Mountain Bisoke
A volcanic summit 3,711m above sea level, this particular one is dormant. And both Volcanoes National Park and the Democratic Republic of the Congo surround Mount Bisoke. Afro-Montane vegetation, a stunning crater lake, Mount Mikeno in the Democratic Republic of the Congo, and gorillas in the forest are only a few of the attractions of Mount Bisoke, which may be climbed in 4 to 6 hours.
Mountain Karisimbi Hike
It takes two days of arduous but extremely rewarding hiking to climb Mt. Karisimbi. The climb begins early in the day and lasts six hours. It entails traveling via the Bisoke side eventually arriving to the first rest area at a height of 3,700 meters for overnight stays before completing the journey the following day. Since the volcano is situated in the primates' park of Volcanoes National Park, a trek to its peak is not your typical one and also offers sights and views of many bird species. The four vegetation belts that go from the thick forest at its base to the arid volcanic core at its summit are likewise renowned for their unusual species.
Hiking Mountain Muhavura
Two national parks; Volcanoes National Park in Rwanda and Mgahinga Gorilla National Park in Uganda share this summit. At a height of 4127 meters above sea level, the volcanic mountain offers breathtaking views of the surrounding countryside, including the dual lakes of Lake Burera and Ruhondo. You can see a lot of Crater Lake from the summit of the hike, which takes around 6 to 8 hours.
Hiking Mountain Sabinyo
Either Uganda's Volcanoes National Park or Mgahinga Gorilla National Park offer hikes to the volcanic mountain. When you climb the peak, which is 3645 meters above sea level, you will now be standing in three nations at once: Uganda, Rwanda, and the Democratic Republic of the Congo.
Hiking Mountain Gahinga
3474 meters above sea level is the elevation of this volcanic mountain. It is one of the park's lowest volcanic mountains, making it an ideal trek for beginners. When you reach the summit, you will have fantastic views of a marshy caldera in addition to the primates, foliage, and various bird species that you will see while trekking.
Birding in Volcanoes Park
In addition, the Volcanoes National Park is home to approximately 200 different bird species, including about 16 that are unique to the Albertine Rift. The process of bird watching in the volcanoes national park begins with a briefing in the morning. With the help of a birding guide, you will then move into the jungle to look for various bird species, such as the red-faced woodland warbler, handsome francolin, Rwenzori turaco, Rwenzori Batis, strange weaver, dusky crimson wing, Rwenzori double collared sunbird, collared Apalis and among others.
Iby'Iwacu cultural Encounter
In the Northern Province's Nyabigoma, Kinigi, and Musanze districts, there is a place called Iby'Iwacu. Visitors can take a tour of Iby'Iwacu to learn about the home and heritage assets of the local inhabitants, including lifestyles, cultural practices, and artifacts. Iby'Iwacu Cultural Village gives visitors a rare opportunity to mingle with the local Rwandese while experiencing a glimpse of their intriguing culture and traditions in their natural surroundings. The only way to get to know individuals is to interact with them closely, join in on their everyday activities, and spend the majority of your time with them. Visitors are given the opportunity to participate in a guided neighborhood walk to see various locations and get a glimpse into the daily lives of the locals.
Visitors will be taken by a culture guide to see a scale model of the king's home, complete with an explanation of each room's function and the stories that go with each one. Get crowned, assume the role of king for a period, and use the royal authority granted to you during a village ceremony by an elder of the community. Visitors can also take in various traditional dances like as the Intore dance and well-known gorilla songs performed by the renowned Ngayabatema while listening to the rhythm created by indigenous musical instruments like African drums.
Dian Fossey research center visit
This walk through the forest to the research facility, where you can see Dian Fossey's grave, is a fascinating activity in Volcanoes National Park. Dian Fossey was a primatologist who was killed in 1985 while conducting study on mountain gorillas. The three-hour trek provides breathtaking vistas of primates, animals, birds, and greenery, among other things. You will also see the cemetery of Dian Fossey's favorite companion as well as the graves of another 20 guerillas who either died from poaching or other causes. You may learn about Dian Fossey and the influence she left behind by going to the research facility.
Best time to visit Volcanoes National Park
Volcanoes National Park is open all year long, although the months of June through September and December through February are the greatest for visiting because of the dry weather. In comparison to the rainy season when the trails are muddy and slippery, the national park experiences less rainfall during the dry season, making access roads and gorilla trekking trails in the forest more usable.
Location and how to get there
Northeast of Rwanda, close to the borders with Uganda and the Democratic Republic of the Congo, is where Volcanoes National Park is situated.
The national park can be accessed by air and road means
By road means, The Park is a two-hour drive on a smooth road from Kigali via Musanze town and offers breathtaking views of the countryside in Rwanda.
By air means, charter flights can be arranged with Akagera Aviation which offers faster helicopter flights to Kinigi airstrip then to the Park's headquarters.
Accommodation at Volcanoes Park
Accommodation facilities in and around Volcanoes National Park vary from Luxurious, Mid-range and budget places to stay at. The following hotels/lodges/camps are the selected explained few out of many;
Sabyinyo Silverback Lodge
The Sabyinyo Silverback Lodge is situated adjacent to park headquarters in the Musanze neighborhood. The luxurious lodge is located at the base of the Virunga Mountain ranges and offers stunning views of the volcanoes' rolling hills and the attractive surroundings. Governors' Camp is the owner and manager of the lodge. The lodge offers eight cottages, each of which provides guests with privacy and spectacular views of the Volcanoes National Park. The cottages are roomy and have amenities like a lounge area with a campfire, a locker room, a bedroom with constant power, and a full bathroom with a bathtub and a shower that has both cold and hot water, along with many other things.
The principal lodge building and guest cottages are exquisitely designed and furnished, and the lodge serves as the ideal launching point for visitors to explore this extraordinary and intriguing Volcanoes national park.
Karenge Bush Camp
The campsite is one of the park's budgeted housing options and is located in the park's northern region. The camp offers a basic, peaceful, and environmentally friendly lodging option in the national park. The camp contains six tents, a full staff, and has a capacity for a maximum of 12 visitors. It provides its visitors with lovely and breathtaking views of the park's fauna.
Two individuals can sleep comfortably in each tent at the camp in cozy camp beds. Simple decks are used to support the tents, while solar lights and candles are used to provide lighting at night. Warm water is consistently made available to camp visitors. Each tent in the camp has an en-suite bathroom with a bucket shower and toilets.
Virunga Lodge
For travelers seeking first-rate facilities and amenities, Virunga Lodge provides luxurious lodging. The lodge's main lounge is a comfortable spot to unwind while offering stunning views of the Burera and Ruhondo lakes and the volcanic hills of Volcanoes Park. The lodge offers ten bandas, with four with double beds and four with twin beds, for choosy guests to rest in. One of the two Deluxe Suites, which have two bedrooms and a sitting room, is an option for families. Additionally, local massage services are available for tourists.
Mountain Gorilla View Lodge
Mountain Gorilla View Lodge is a great option for a basic and cozy lodging at the center of the unforgettable gorilla-trekking experience. It is located on the hills of the volcanoes that make up Rwanda's famous Volcanoes National Park and is only minutes away from its entrance. The lodge's 30 cottages were thoughtfully planned and constructed using local, sustainable materials. Each one has a fireplace and an en suite bathroom. You will observe birds and monkeys in the gardens as you roam around and take it all in. The views from the lodge and your room are breathtaking, including rocky, forested mountains steaming with mist and mystery. The mood is distinctly African and is enhanced by daily performances of traditional Rwandan song and dance.
Le Bambou Gorilla lodge
This is a moderate hotel with 16 standard rooms that are constructed with bamboo in accordance with the lodge's name. The majority of the lodge's items and furnishings were constructed of bamboo, a locally accessible material with lovely gardens to unwind in.  This guest house includes 13 single, double, and twin rooms, three of which have king-sized beds and may be converted into triple rooms.
Bisate Lodge
A luxurious lodge with a distinctive design, Bisate Lodge is located in a naturally formed amphitheater of an eroded volcanic cone and offers views of the Karisimbi, Bisoke, and afro-alpine forests. Villas at the lodge have a distinctive style that resembles a volcanic cone. Only 12 guests can be accommodated at Bisate Lodge each night in its 6 en-suite rooms, each of which is tastefully equipped with a brick fireplace, made of wood roofing, an en-suite bathroom, a double bed, and a private deck.
Five Volcanoes Boutique Hotel
Located in Musanze district, previously named as Ruhengeri province, and only 15 minutes by car from the volcanoes national park's headquarters, the five volcanoes boutique hotel is the ideal luxury 5-star accommodation for your safari to the park. There are 13 double/twin guestrooms plus 1 Premium cabin available for visitors to stay at the Five Volcanoes Boutique Hotel, which is located along the road leading to the Kinigi headquarters of the Volcanoes National Park. Each of the air-conditioned rooms at the five volcanoes boutique hotel includes a flat-screen television, a refrigerator, a fireplace, a kettle, and an en-suite bathroom with running hot and cold water.
Kinigi Guest House
Only 11 km separate the guest house, known locally as "Village Touristique de Kinigi," from Ruhengeri City in Rwanda's Eastern North. It serves as a cozy entryway to the majesty of the volcanic mountain range, which is home to the endangered mountain gorillas. The guest home is built at the base of the 4,480 m-high volcanic Sabyinyo mountain. The Kinigi Guest House is a cozy starting point for exploring the magnificent, imposing majesty of the Virunga volcanic mountain ranges, which are home to the endangered mountain gorillas.
Over 40 people can stay at the guest house, and each room has power and hot water. Four (4) VIP suites are available for guests with higher standards, and a 400-seat perfect hall is available for conferences, seminars, weddings, and other social events. Visit Kinigi Guest House if you wish to enjoy beautiful gardens and enchanting settings. The guest rooms are roomy and equipped with hot showers, private bathrooms, and mosquito nets.