The overview of primates safari water rafting and wildlife tour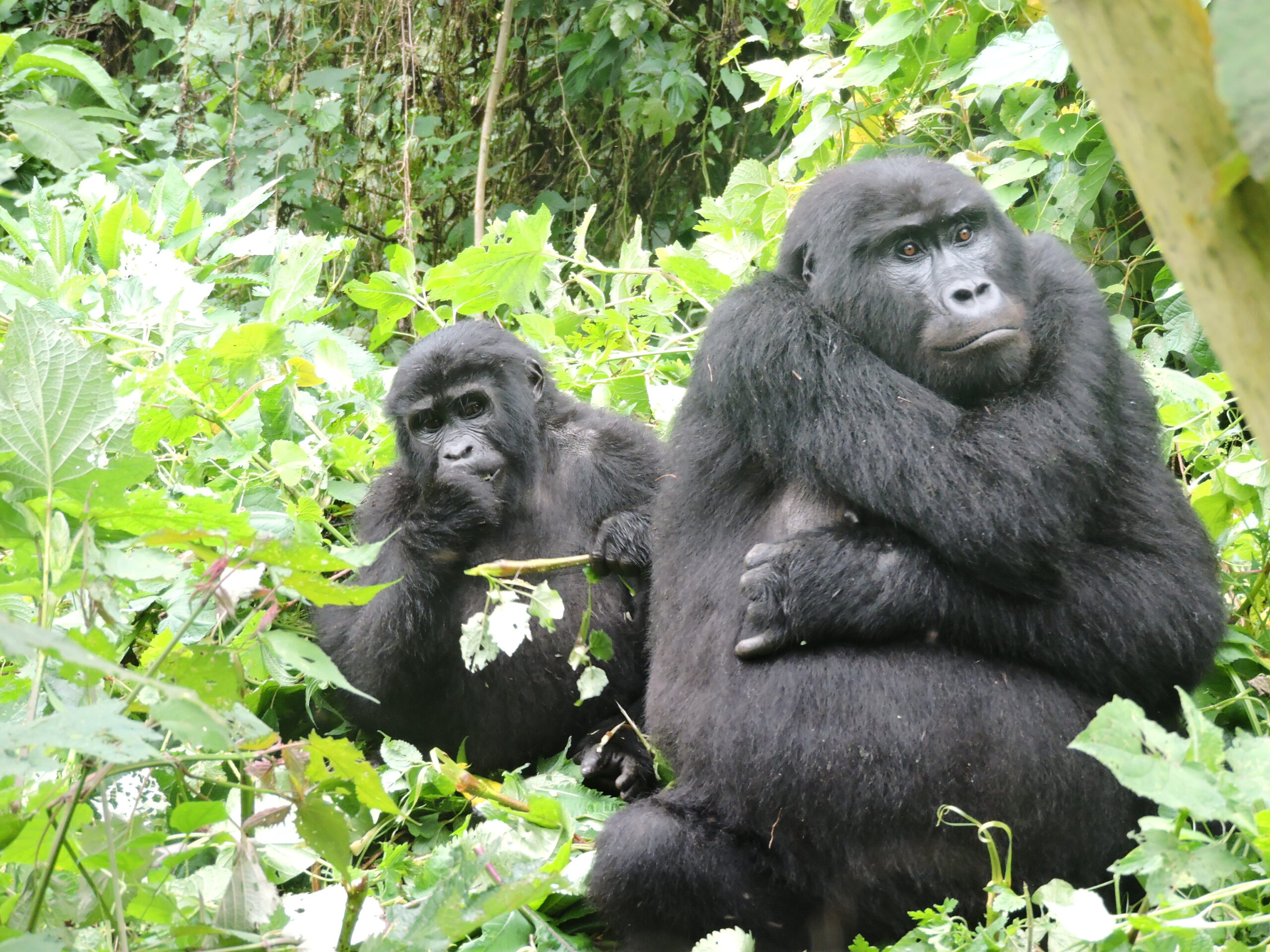 Primates safari and wildlife tour with water rafting in 8-day safari begins and ends in Kampala and visits some of Uganda's most popular tourist locations, including Jinja for white water rafting, Murchison Falls National Park, Queen Elizabeth National Park, and Bwindi Impenetrable Forest Park. This safari comprises the majority of tourism and thrilling activities, all of which may be enjoyed at the listed locations. You will enjoy wildlife viewing, gorilla trekking, chimp tracking, white water rafting, boat cruises, and other activities.
Highlights of the safari
Gorilla trekking
Chimpanzee tracking
Game drives
Spotting of the Big Five
Rhino tracking
Boat cruise along Kazinga channel
Batwa cultural experience
Uganda Equator crossing point experience
White water rafting
Exploration of the source of the Nile
Day by day Itineraryprimates safari water rafting and wildlife tour
Day 1: Transfer to Jinja and do white water rafting and visit the source of the Nile
The first day will begin with a transfer to Jinja via the Kayunga to Jinja route. After 1-2 hours of driving, arrive at Jinja. The professional and well-trained white rafting guides will brief you and equip you with rafting skills. After that, spend 1 to 2 hours white water rafting on the Nile.
Depending on your rafting experience, you may choose the strenuous yet entertaining grade 5 or a less tedious degree of at least grade 3. Enjoy the adventure full of pleasure and enjoyment while knowing you're safeguarded. After this activity, you will have a short rest and lunch.
In the afternoon, take a boat ride on the Nile as it departs Lake Victoria as its source to be now the submerged Rippon Falls. Here the Nile begins its 4000-mile journey to the Mediterranean Sea, passing through various countries along the way. The boat journey could last ranging from 30 minutes to two hours, based on the time available. Pay attention to your local tour guide telling you stories about the 'source of the Nile,' as locals believe.
Jinja is also known as the "Adventure Capital of East Africa" because of the many adventure sports offered on and around the Nile, including water rafting, kayaking, jet boating, bungee jumping, squad biking, and horseback riding. You have the choice of participating in these extra activities at extra cost in the late afternoon or scheduling a return visit.
You will be taken back to Kampala in the evening along the Lugazi-Mukono highway, going through Mabira woodland, tea plantation farms, and sugar cane plantations. Arrive late at night to check into your lodge for dinner and an overnight stay.
Meal plan: All meals are included
Day 2: Drive to Murchison national park and Rhino tracking at Ziwa Rhino Sanctuary
After breakfast at your Kampala hotel, the driver guide will pick you up and embark on a journey of 300 km northwest to Murchison Falls Park. The drive will take you through ever-changing scenery, bustling roadside markets, and calm rural villages. Drive through the stunning flat landscapes of central Uganda before detouring at Nakitooma to reach the Ziwa Rhino Sanctuary.
Arrive at the sanctuary headquarters, where you will be briefed on rhino tracking and how to behave around rhinos. Take a thrilling 2-hour rhino tracking adventure on foot on well-defined trails, accompanied by armed rangers, to see Southern white rhinos in their native habitat.
After that, continue on to Murchison Falls National Park, stopping for lunch at Masindi. When you enter the park, you may climb to the top of the waterfalls for spectacular views of the Nile as it compresses down the canyon. In the evening, check into the lodge for dinner and an overnight stay.
All meals are included in the meal plan.
Day 3: Game drive and afternoon boat ride
After breakfast, have a 3-4 hour game drive through the park's northern sector, which has rolling savanna grassland intermingled with stunning clumps of Borassus palms, acacia trees, riverine woodland, a variety of animals, and rare birds. During the early morning game drive you are likely to see early morning risers and predators such as lions, leopards, and hyenas as they return to their dens after an overnight hunt. During the game drive, you can expect to witness warthogs, Uganda kobs, cape buffaloes, bush pigs, bush duikers, sitatunga antelopes, Rothschild giraffes, and hyenas, among other wildlife. Rare bird species to look out for include Abyssinian ground hornbills, Secretary birds, Grey-crowned cranes, and Denham's bustard, among others.
Return to the lodge for relaxation and lunch after the game drive.  Later, take a 3-hour boat ride east along the Nile River through an archetypal stretch surrounded by Borassus palms, acacia forest, and mahogany stands. View scores of Nile crocodiles skimming the water's surface, and also pods of concealed hippos breaking the surface to get a better look at you. The waterbirds such as the magnificent, prehistoric-like Shoebill, the well-named Goliath heron, the Saddle-billed stork, the African jacana, Squacco heron, and African fish eagles can be seen replenishing their thirst on the banks of river. After the boat ride return to the lodge for dinner and overnight
Meal plan: All meals are included
Day 4: Transfer to Queen Elizabeth national park
This day involves a transfer from Murchison falls national park to Queen Elizabeth national park via the Fort Porta- Kasese route. You will enjoy an 8-9 hour journey with magnificent perspectives of the natural elements along the way such as the Rift Valley escarpments, lakes, bird life, and small village setups. Have lunch and refreshment stops along the journey. Arrive in the evening at Queen Elizabeth Park to check into the lodge for dinner and a night's stay.
Meal plan: All meals are included
Day 5: Morning game drive and Boat cruise along Kazinga channel
You leave for an early game drive in Queen Elizabeth National Park after a cup of coffee. An early start boosts the chances of capturing nocturnal and predators before they retire to their hideouts. It is possible to see lions, leopards, hyenas, buffaloes, elephants, Uganda Kob, warthogs, baboons, jackals, waterbucks, bushbucks, and grazing hippos. The game viewing will take approximately four hours before returning to your lodging for leisure and lunch.
After lunch, take a 2- to 3-hour boat excursion on the Kazinga Channel, a 32-kilometer-long natural channel that connects Lake Edward and George and is home to Hippos, Crocodiles, Monitor Lizards, and Buffalos. Elephants and antelopes frequently use the channel to cool off, drink, and eat fresh grass. The Channel is a genuine bird magnet, with Pied and Malachite Kingfishers, African Fish Eagles, Cormorants, Skimmers, Saddle-billed Storks, and Pelicans among the most common and noticeable species.  After the boat cruise, return to your lodge for dinner, relaxation, and the night.
Meal plan: All meals are included
Day 6: Chimpanzee tracking in Kyambura Gorge and transfer to Bwindi impenetrable forest national park
After an early breakfast, you will be transferred to the Kyambura Gorge headquarters for a briefing on the rules and guidelines of chimp trekking, as well as the assignment of a chimp family to trek and a park guide who is familiar with the forest's trails. Trekking chimps can take anything from 30 minutes to 4 hours, depending on where the chimps spent the night before.
After that, you'll go into the forest in search of chimps, where you'll observe butterflies, birds, plants, primates, and mammals, among other things. Once the chimps are located, you will have the opportunity able to spend one hour with them in their natural habitat, watching their behaviors and habits, as well as seeing them feed, breastfeed, play, hunt, fight, rest, snap photos, and record videos with a flashless camera.
After this adventure, have lunch and embark on the drive to Bwindi Impenetrable Forest for gorilla trekking the next day. Arrive in the evening in Bwindi to check into the lodge for relaxation, dinner, and an overnight stay.
Meal plan: All meals included
Day 7: Gorilla trekking and Batwa community tour
Drive to the park headquarters after an early breakfast, where park rangers will instruct you on what to do along with what not to do while on Gorilla trekking. In the company of park rangers, begin gorilla trekking. Depending on the location and mobility of the gorillas, this activity could take 2 to 8 hours. You will spend an hour photographing the gorillas watching them feed, play, and go about their everyday activities. Return to your lodge for some rest after our expedition.
In the late afternoon, take a cultural tour of the Batwa community, in which you will be acquainted to their culture through the way they live, dance, and hear amazing stories about their culture. Return to your lodge for dinner and a well-deserved rest.
All meals are included in the meal plan.
Day 8: Transfer back to Entebbe international airport for departure flight
After a leisurely breakfast, begin your journey back to Entebbe, passing through rolling hills with terraces and admiring the beautiful nature of the various spots. Stop at the Uganda Equator crossing point for water experiments and photoshoots and visit to Mbambire Drum Makers Point before traveling to Entebbe in the late afternoon. Depending on your schedule, the guide may leave you off at the hotel or the airport to catch your flight home, bringing 8days primates safari with a wildlife tour and white water rafting to a close.
Meal plan: Breakfast and lunch