The overview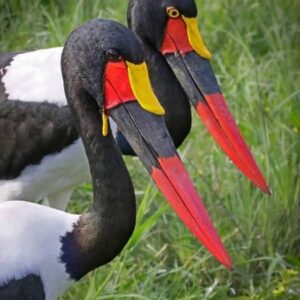 This 7-day birding tour takes you to Murchison Falls Conservation Area to look for every unique species and some of the Guinea Congo biome endemics. Bird through the beautiful savanna grasslands of Murchison Falls National Park, the Royal Mile, the Albertine Escarpment, and other locations. Over 650 bird species have been reported in the protected area, which is divided into three categories: Savannah woodland birds, water birds, and Albertine endemics. Marabou storks, ground hornbills, secretary birds, and black-bellied bustards are among the most common huge birds encountered in the plains.
DETAILED ITINERARY
Day 1: Arrival at Entebbe Airport and Birding in Entebbe Areas
Depending on your arrival time, our representative will meet you at Entebbe International Airport and transport you to the selected hotel in Entebbe. One can be given an introduction to birding in Entebbe, preferably in the Botanical Gardens, which offers excellent birding opportunities with views of the Great Blue and Ross's Turacos, Red Chested, Klaas's, and Diederik Cuckoo, Great Reed, Grey Capped, Sedge, Greater Swamp, and Eurosui and many more. Afterward, you return to the hotel for dinner and a night's stay.
Meal plan: Lunch and Dinner
Day 2: Transfer to Murchison falls national park and Drive to the top of the falls
After a leisurely breakfast, set out for the 305km, 5 to 6-hour drive to Murchison Falls National Park. Along the way, look out for White-crested Turacos and bird species like Pel's Fishing Owl, Rock. Drive up to the top of the Waterfalls in search of Pel's Fishing Owl, Rock Pranticoles, Bat Hawks, and a variety of Night Jars. Check into your lodge for dinner and a night's stay after that.
Meal plan: All meals are included
Day 3: Birding in Murchison Falls National Park
You get up extremely early on this day to begin the birding adventure. Puvell's Illadopsis, Grey, and Yellow Longbill will be the primary focus today. Other species that might be seen within the forest include, the Fire Crested Alethe, Narina Tragon, Dusky Longtailed Cuckoo, Xavier's, Ictrine, Plain, and Little Greenbul, Yellow Billed and Yellow Spotted Barbet, Green, Olive Bellied, and Olive Sunbird, Crested Guinea Fowl among others. Return to the lodge for dinner and a night stay.
Meal plan: All meals are included
Day 4: Bird watching through the northern Sector of Murchison Falls National Park
You will commence your day with a delightful breakfast followed by a ferry ride to the Delta region for a game drive in pursuit of the Shoebill stork and various other aquatic birds. During your morning commute, anticipate the possibility of encountering certain bird species, specifically the Nightjars and Owls, known for their nocturnal habits. Occasional sightings of felines may also occur along the way. Once you have completed the game and birdwatching excursion in the park's northern region, it's possible to spot various creatures, such as the Lion, Leopard (if you're fortunate), Giraffe, Oribis, Hartebeests, Elephants, and Cape Buffalos. Additionally, the drive often yields sightings of several types of birds, including the White Fronted Black Chat, African Quil Finch, Fawn Bat and Breasted Waxbill, Northern Carmine, Swallow Tailed and Red Throated Bee-Eater, Silver Bird, Stanley's Bustard, Black Billed Barbet, Rufous Crowned and Abyssinian Roller, White Browed Sparrow Weaver, Speckle Fronted Sparrow Weaver, Rufous Sparrow, Vitelline Masked and Little Weaver. In the latter part of the day, you embark on a river excursion on a boat ride on the Victoria Nile towards the base of the falls, where you will have the opportunity to observe an assortment of aquatic avians, as well as gatherings of Hippopotami and Crocodilians. Return to your lodge for dinner and a night's stay.
Meal plan: All meals are included
Day 5: Birding through the Albertine Escarpment
Start your day with an early breakfast and then take a scenic drive to Masindi. Along the way, engage in birdwatching while exploring the escarpment in search of various species such as the Black Billed and Spot Flanked Barbet, Foxy Cisticola, Striped Kingfisher, Red-chested Cuckoo, Foxy Cisticola, Red-winged Grey Warbler, Black-headed Batis, Cliff Chat, Green-backed Eremomela, Yellow-bellied Hyliota, Green-headed Sunbird, Red-winged Pytilia, and Chestnut-crowned Sparrow-Weaver. When you reach the pond, keep your eyes open for the Shining Blue Kingfisher. There's potential to spot Sabine's and Cassin's Spinetail birds, which could make the trip even more exciting. You have dinner and a night's rest in Masindi.
Meal plan: All meals are included
Day 6: Bird watching at the Royal Mile
After enjoying a leisurely morning meal, indulge in some birdwatching at the Royal Mile where you can spot various avian species such as Cassin's Hawk Eagle, Nahan's Francolin, Chocolate-backed, and Dwarf Kingfishers, White-thighed Hornbill, Narina Trogon, Blue-breasted Kingfisher, a plethora of Tinkerbirds and Barbets, Yellow-crested and Brown-eared Woodpeckers, Forest Flycatcher, Chestnut-capped Flycatcher, Fraser's and Red-tailed Ant Thrush, Western Black-headed Oriole, and Purple-headed Starling. Later, after a picnic-style lunch, you will travel to the Busingiro sector where you can keep an eye out for elusive species like Ituri Batis, Lemon Bellied Crombec, Tit Hylia, Uganda Woodland Wabler, and Jameson's Wattle Eye. In the evening return to the lodge for dinner and night
Meal Plan: All meals are included
Day 7: Transfer back to Entebbe for departure flight
Have a relaxed breakfast, you will be driven back to Entebbe for your departure flight depending on its schedule, bringing this safari to a close.
Meal plan: Breakfast, Lunch