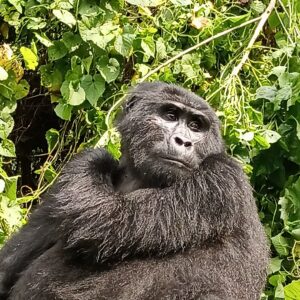 4 DAYS UGANDA GORILLA TREKKING AND CHIMPANZEE TREKKING SAFARI
The overview of the safari
This 4-day gorilla trekking and chimp trekking safari begins and ends in Kampala and takes you to Bwindi Impenetrable Forest National Park, one of Africa's gorilla destinations with the highest number of endangered mountain gorillas in the world, and Kibale National Park, which has the highest number of chimps in Uganda. The Bwindi Impenetrable Forest is located in southern Uganda's Kanungu area and is notable for its mountain gorillas, which may be found in four sectors: Rushaga, Buhoma, Ruhija, and Nkuringo.
Safari Highlights
Gorilla trekking
Chimpanzee trekking
Batwa community tour
Spotting of other primates
Detailed Itinerary
Day 1: Pick up and transfer to Bwindi impenetrable forest national park
After breakfast at your hotel or residence, you will be picked up by our safari guide and driven to Bwindi Impenetrable National Park in southwest Uganda via the Kampala-Masaka Highway. The Uganda Equator crossing at Kayabwe Trading Centre is going to be your first stop for spectacular images and water experiments to highlight the geographical separation of the northern and southern hemispheres. Continue on your journey from Kayabwe, passing via Lukaya, a popular stop for Muchomo (grilled pork) vendors, and Masaka town before reaching in Lyantonde.  Another stop will be made at the Igongo Cultural Center for a traditional lunch.
After lunch, continue the drive via the Kigezi Highlands, often referred to as the "Switzerland of Africa," arriving at the park in the evening for leisure, dinner, and an overnight stay.
All meals are included in the meal plan.
Day 2: Gorilla trekking and Batwa community tour
After an early breakfast, you will meet our driver guide and continue to the park headquarters for a briefing on gorilla trekking rules and standards. Following the briefing, you will be allocated a gorilla family to travel with, and you will enter the jungle with an experienced park guide to begin your journey. Since gorillas tend to move about in search of food, gorilla trekking in Bwindi Impenetrable National Park may last from between 30 minutes to 6 hours. When the mountain gorillas are found, you are allowed to spend one hour with them in their natural surroundings to learn more about their conduct and habits, watch them feed, breastfeed, and groom young ones, take photos, and record the moments to show people back home after the safari. After an hour with the gorillas, you will return to the starting point, where you will be given a certificate for your participation in gorilla trekking, and then you will meet up with your driver guide to proceed to your hotel for leisure.
In the evening, you go on an escorted community walk on the Batwa route in Bwindi to learn about the locals' livelihoods. You will visit a traditional herbalist to understand how they prepare native medicine to cure a variety of human problems, a blacksmith to see how he makes everyday objects, and a brewery to see how local beer is made using traditional methods. Traditional village dances will also keep you entertained. Return to the lodge for dinner and overnight stay.
All meals are included in the meal plan.
Day 3: Transfer to Kibale national park
After breakfast, check out of the lodge and drive to Kibale National Park, which will take approximately 7 to 8 hours. This route will take you via Queen Elizabeth National Park, where you may see wild wildlife and tree climbing lions as you travel through this Savannah-dominated national park. Crossing various rivers that spring from the Rwenzori Mountains as you travel via Kasese area to Fort Portal with an end route lunch, check in at the lodge for dinner and overnight stay upon arrival in Kibale national park
Meal plan: All meals are included
Day 4: Chimpanzee tracking and transfer back to Kampala
After having an early breakfast, you will be taken to the park's headquarters for an orientation on the laws and guidelines of chimp trekking, as well as the assignment of a chimp family to trek and an official park guide who is familiar with the forest's trails. Trekking with chimps in Kibale National Park might take ranging from 30 minutes to 4 hours, based on where the chimps spent the night before. You will head into the forest in search of chimps, while also seeing other wildlife species such as butterflies, birds, plants, primates, and mammals. Once the chimps are located, you will be able to spend one hour with them in their natural habitat, observing their behaviors and habits, as well as seeing them feed, breastfeed, play, hunt, fight, rest, snap photos, and record movies with a flash less camera. Following your chimp trekking trip, you will rejoin your driving guide and return to the lodge for lunch and recuperation.
After an hour with the chimps, you will return to Kanyachu Visitors Centre, meet your driver guide, and begin the drive back to Kampala. You will stop in Fort Portal for lunch before continuing on to Kampala to which you will arrive in the evening. Depending on your flight schedule, the driver will drop you off at the airport or at the lodge, bringing this safari to a close.
Meal plan: All meals are included