4 DAYS RWANDA LOWLAND GORILLA AND CHIMPANZEE TREKKING SAFARI OVERVIEW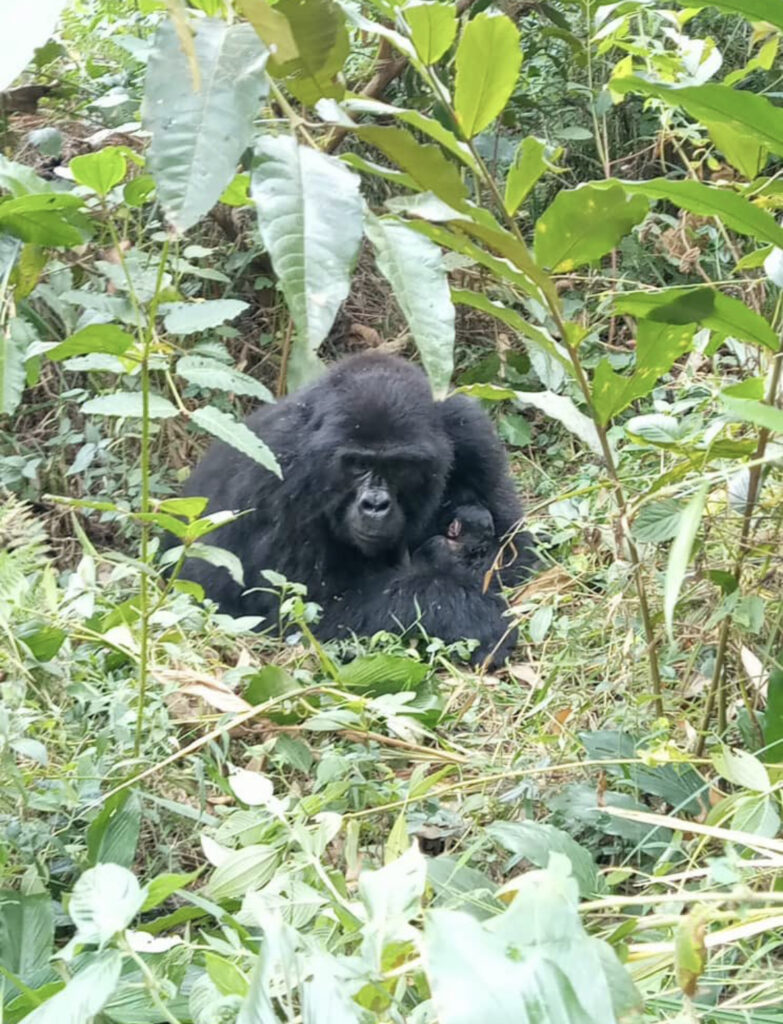 This Rwanda lowland gorilla and chimp tracking safari lasts four days and begins and concludes in Kigali, Rwanda. It leads you to Nyungwe National Park for chimp tracking, then to Kahuzi-Biega in the Democratic Republic of the Congo across the Cyangugu border for Lowland gorilla tracking. In addition, there will be community exploration near Kahuzi-Biega National Park and stops at Rwandan cultural places.
Kahuzi-Biega National Park is one of Africa's remaining unspoilt and uncrowded national parks, providing a genuine sense of being in the African wilderness. The DR Congo safari and trip at Kahuzi-Biega National Park is really rewarding; you will witness beautiful landscapes, animals, and flora.
The Highlights of the Safari
Chimpanzee tracking
Lowland Gorilla tracking
Community exploration around the Kahuzi-Biega National Park
Scenic drives
Visits in historical and cultural sites in Kigali
Detailed Itinerary Chimpanzee trekking and Rwanda lowland gorilla trekking
Day 1: Transfer to Nyungwe forest park through Ethnographic Museum
After breakfast, you will depart Kigali for Nyungwe Forest, stopping at the Huye ethnographic museum along the way. The ethnographic museum, which is also Rwanda's national museum, displays historical and cultural aspects of Rwanda over time. It provides resources and information to help you learn about Rwanda's rich history and cultural heritage. Following the museum visit, you will have lunch before heading on to Nyungwe Forest. The roads to Nyungwe after Huye are often winding, affording stunning views of the famous "thousand hills." You'll arrive at the hotel late in the evening for dinner and a good night's sleep.
Meal plan: All meals are included
Day 2: Chimpanzee tracking and transfer to Kahuzi-Biega national park
Following an early breakfast, head to the Park's headquarters in Uwinka, in which you will be instructed by the park's head ranger and split into trekking groups of 8 people each. Chimpanzee trekking in Nyungwe Forest National Park starts early.
Following a briefing, embark on a 2- to 6-hour journey into the bush in search of these primates. Nyungwe Park is home to approximately 80 habituated chimps. Other primate species you may encounter while tracking chimps in the bush include the black and white colobus monkey, red-tailed monkey, golden monkey, and other monkey species. When you find the chimps, you will be allowed to spend an hour with them in their natural habitat, witnessing how they feed and behave. Return to the place of lodging for lunch after your amazing chimpanzee adventure.
Later in the afternoon, depart from Nyungwe National Park and proceed to Kahuzi Biega National Park. You will enter Congo at the Cyangugu border and travel to Bukavu, which is near the Kahuzi Biega National Park. Check into the lodge for some downtime, dinner, and an overnight stay.
Meal plan: All meals are included
Day 3: Lowland Gorilla tracking at Kahuzi-Biega National Park and community adventure
You get up before sunrise to eat breakfast and head to the park headquarters. Following registration, be briefed on the guidelines to follow while tracking lowland gorillas, as well as the park's history. The park officials will assign you with one of the four habituated Eastern Rwanda Lowland Gorilla groups. Expect to spend roughly 4 hours searching for primates in the jungle.
When you find them, spend one hour observing them in their natural habitat and ways of their life. Other mammals, primates, and bird species will be encountered as you track the primates. After finishing, you will return to the starting place, where you will meet the driver who will take you for lunch and some rest.
Your guide may take you to several local communities, Kibati waterfalls, Bukavu town, and the Mbayo tea estate later in the day. You can also choose to embark on a nature walk excursion in Kahuzi-Biega National Park. Dinner and an overnight stay at the lodge.
Meal plan: All the meals are included
Day 4: Transfer back to Kigali
After having a relaxed breakfast, return to Kigali via the Cyangugu border. It's a 7-hour trip through Nyungwe National Park to Kigali, including stops at the King's Palace in Nyanza and the Butare National Museum along the way. Depending on the schedule of your return flight, you will be dropped off at the lodge or the airport, bringing this safari to a close.
Meal plan: Breakfast and lunch
Introduction to Kahuzi Biega National Park
Kahuzi Biega National Park, located on the western shore of Lake Kivu, is one of the largest protected areas in the Democratic Republic of the Congo. Because the park is one of the few safari places that has Eastern Lowland Gorillas, it is a preferred safari destination for Eastern Lowland Gorilla Trekking.  The park is made up of two dormant volcanoes, Mount Kahuzi and Mount Biega, from whence the name Kahuzi Biega is derived.
The only national park in Congo in which tourists can track the infamous eastern lowland gorillas in their native habitat is Kahuzi-Biega. It also boasts the largest population of eastern lowland gorillas, with over 250 individuals. The species, also known as Grauer's gorilla, constitutes the largest of four gorilla subspecies, which comprise Mountain gorillas, Western lowland gorillas, Eastern lowland gorillas, and cross river gorillas. Fruit, bamboo shoots, and other herbaceous materials are the primary foods of the eastern lowland gorilla. A majority of the lowland gorillas in the national park are currently habituated, indicating they are quite at ease in the presence of humans.
A gorilla permit for eastern Rwanda lowland gorilla trekking in Kahuzi-Biega national park costs USD 400 per person. Trekking normally starts at 7 a.m. with a briefing. Trekkers are then divided into groups of no more than eight people.
Trekking eastern Rwanda lowland gorillas in the national park may require 4 to 6 hours or more, based on the gorillas' location in the forest. Eastern lowland gorilla trekking in Kahuzi Biega can take even longer hours, particularly if the primates have ventured deep into the forest in search of food, making tracking difficult for tourists, especially if they are not in peak physical and mental condition.