2024 10 Day Primates & Wildlife Tour Uganda Package
The 10 day Primates & Wildlife Tour Uganda offers gorilla trekking, chimpanzee tracking, & wildlife safari in Uganda. This 10 days Primates & Wildlife Safari explores Ziwa Rhino sanctuary for Rhino tracking, Murchison falls National Park, Queen Elizabeth National Park, Kibale Foret national Park, Bwindi Impenetrable National Park, Lake Bunyonyi & Lake Mburo National Park. The 10 days Primates, & Wildlife  safari provides game viewing drives and Boat cruise for viewing animals as well as meeting face to face with the Mountain Gorillas in the wilderness.
Detailed Itinerary For 10 Days Primates & Wildlife Tour Uganda
Day 1 Transfer to Murchison Falls
Drive from Kampala to Murchison Falls with a stopover at Ziwa Rhino Sanctuary for lunch and Rhino tracking, visit to the top of the Falls before continuing to our lodge in the park at Murchison River Lodge.
Day 2 Game drive and Boat cruise
Have a morning game drive in search for early risers like elephants, giraffes, warthogs, many antelopes and then a boat ride to see the Falls from the river
Accommodation – Murchison River Lodge
Day 3 Transfer to Kibale
Drive from Murchison Falls to Kibale. Lovely walk to a village near our lodge to stretch legs.
Day 4 Transfer to Queen Elizabeth National Park
Drive to Queen Elizabeth NP, boat ride on on the Kazinga channel.  Expect to see a number of animals as they come to ease their thirst on the shores. These include crocodiles, warthogs, baboons, buffalos, elephants, antelopes and so on. This is Africa's top birding spot, so expect to see various bird species including, pelicans, African fish eagles, herons, egrets, cormorants and so on.
Accommodation – Pumba Safari Cottages
Day 5 chimpanzee tracking and game drive
You have an option to track chimpanzees either in Kyambura gorge or Imaramagambo Forest or Kalinzu forest. Having encountered these apes, you will spend an hour with them and then move back to your lodge. In the evening, we have a game drive through the Kasenyi sector. This is a mating ground for antelopes and therefore a good place to spot predators (lions, leopards, hyenas). We continue up to Lake George to visit a fishing village before moving to our lodge for overnight Pumba Safari Cottages
Day 6 Transfer to Bwindi
Embark on a journey to Bwindi via Ishasha sector famous for the tree climbing lions proceed to Bwinbi forest a home to more than half of the world's remaining mountain gorillas. It is also home to many bird species and the three horned chameleon. We check in our lodge and then enjoy the free time. You may opt to have a village walk or be entertained by a cultural performance at Bakiga Lodge
Day 7 Gorilla tracking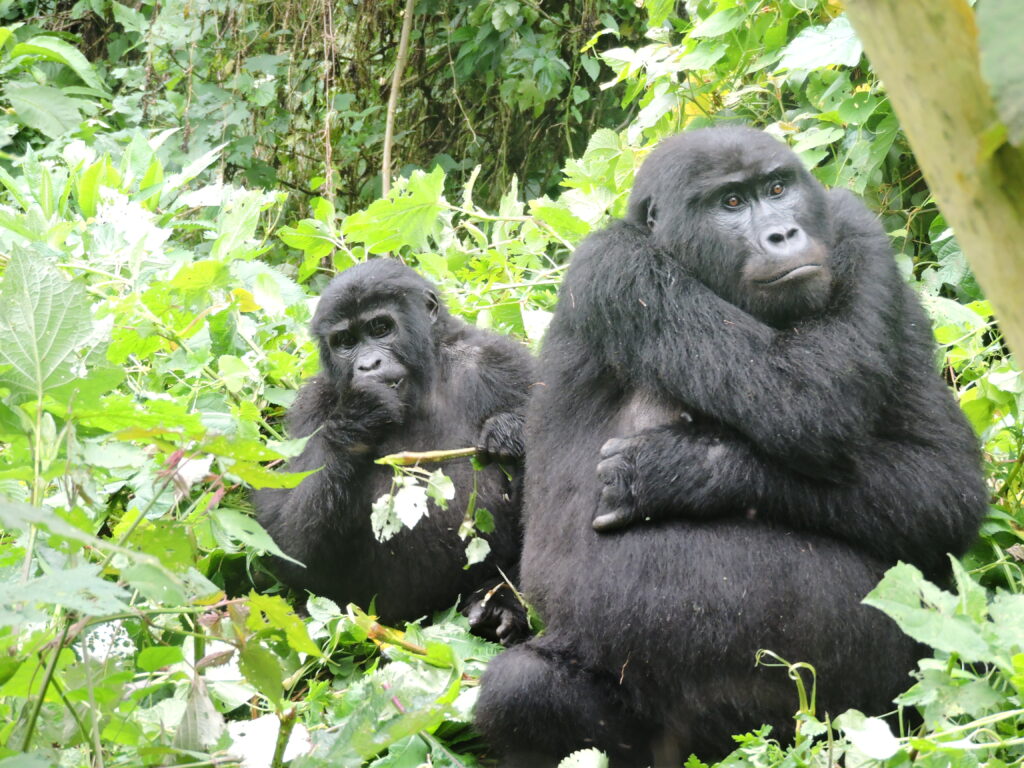 You enter the Impenetrable forest with your packed lunch to search for the endangered mountain gorillas. Be ready to walk for 45 minutes to 6 hours depending on where you will find the gorillas that day. Having encountered them, you will be given a full hour to interact with them. That look into the eyes of the gentle mountain gorilla is likely not to be forgotten and therefore  a highlight of your 10 day Primates & Wildlife Safari. These are strongest and most mascular primates on earth. You then return to your lodge to retreat from day activities.
Day 8 Drive to Lake Bunyonyi
You will be exploring the beautiful Lake Bunyonyi, one of the deepest lakes in the region and after spending the first half of the day exploring Lake Bunyonyi, you will then have to travel back to lake mburo
Day 8: Drive to Lake Mburo.
Have evening game drive where you expect to see nocturnal animals like hippopotamus and hyenas going out for the night.
Day 9: Drive from Lake Mburo to Entebbe.
Drive from Lake Mburo to Entebbe with a Stop at the equator line for lunch and the obligatory pictures on this latitude (00) which can act as souvenirs after your safari.
End of the Trip