1 Day Jinja Safari & Source Of The Nile Excursion
1 Days Jinja Safari : This 1 (one) day Jinja tour excursion takes you on a jinja city to explore the source of the Nile River, Sezibwa falls & Mabira forest for a guided nature walk.
This one-day Jinja trip experience takes you to some of the tourist sights and activities in and around Jinja, with the first stop being the ancient Sezibwa Falls, which are approximately 7 meters high and have a lovely hissing sound. Proceed to Mabira Forest Reserve for a 2-hour guided woodland walk, during which you will see a variety of bird, mammal, and plant species. Later, take a wonderful boat excursion to the Nile's source.
The highlights of this safari
Going on a jungle trek and visiting Mabira Forest
Exploring the Sezibwa Falls
A boat voyage to the source of the Nile
Other optional activities like water rafting, kayaking, jet boating, bungee jumping, quad biking, and horseback riding
Detailed Itinerary
The day begins with an early journey from Kampala to Jinja, passing past tea plantations, sugarcane fields, and African markets. You will see and experience river rapids, the grandeur of trees, the sound of water and it's dropping right at the Nile's source, and the Sezibwa Falls. You will have a stopover at Sezibwa Falls to see the peculiarity of this uncontrollable water flow of sorts.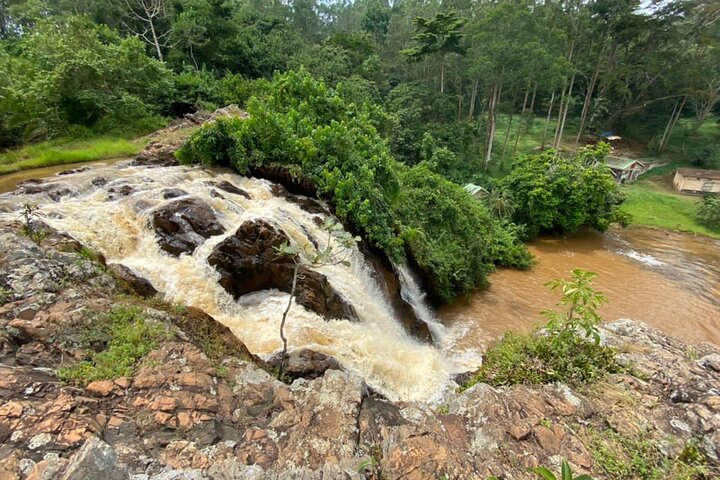 Sezibwa gets its name from the word "SSizibwa kkubo" in Luganda, which translates to "my way cannot be obstructed or hindered" in English. From there, you continue on to Mabira Forest, Over 300 bird species and numerous Ugandan primates call Mabira forest home. The forest is wonderful; it is still natural, and the nature walk is breathtaking. You'll be walking under a tree canopy for nearly an hour without seeing the sky. There will be many primates to observe along the journey, as well as gorgeous forest birds and pleasant temps. After the walk here you will be driven to Jinja city for lunch. Following that, you will take a boat trip on the Nile as it exits Lake Victoria to the "Source of the Nile" at the now-submerged Rippon Falls. The Nile begins its 4000-mile stream to the Mediterranean Sea here, passing through several countries along its route. Depending on the time available, the boat excursion can last anywhere from thirty minutes to two hours. Listen to your local site guide tell you stories about the 'source of the Nile' as those who live there believe.
Jinja is also regarded as the "Adventure Capital of East Africa" due to the numerous adventure sports available on and along the Nile, such as water rafting, kayaking, jet boating, bungee jumping, quad biking, and horseback riding. You are free to participate in these optional activities in the late afternoon or to schedule a repeat visit. In the evening you will be driven back to Kampala to your lodge which brings this tour to an end.